Canada — Corruption & Haïti
"All citizens have a duty to stand up and be counted" because "Canada is a nation adrift."1
Corruption by the numbers
In an unpublished survey of 4 000 adults conducted by Canadian Election Study during the 1993 federal election, 92% of Canadians deemed that politicians were prepared to say anything regardless of the truth just to get elected.2
A national poll released by Ottawa-based GPC research on 17 October 2005 divulged that government corruption was ranked as the N° 1 concern among Canadian voters (23 054 615 registered on 23 January 2006).3
Canadians were found to believe that political parties were the most corrupt institutions in the country by Transparency International's (TI) 2005 Global Barometer.
Only 14% of Canadians trusted their politicians who were ranked last in the Montréal-based Léger Marketing's annual survey of professions that was published on 19 March 2006. Elected representatives held the unflattering distinction every year since the polling firm began issuing its indicator in 2002.4
The Worldwide Corruption Index released by Gallup Poll on 1 December 2006 disclosed that corruption was perceived as "widespread throughout the government" by 57% of Canadian respondents.5
Jean Chrétien
A Liberal MP since 22 April 1963 who displayed the political instincts of a junk-yard dog throughout his career, Jean Chrétien was first elected prime minister of Canada on October 25th 1993 (sworn-in on 4 November) and led three consecutive Liberal majority governments that were marred by some of the most appalling mismanagement ever observed. On his very first day in office, he rescinded the $4.8 billion contract approved by the previous Conservative administration to purchase 50 military EH-101 helicopters which cost taxpayers $478 million in cancellation fees.
This event is exceptionally notable because it demonstrates complete disregard for the safety of Canadian military personnel who risked their lives every time they boarded obsolete and unsafe 40 year-old Sea Kings that required at least 30 hours of maintenance for every hour of flight time. It also revealed the most insidious form of callous nepotism when Chrétien spent $100 million to purchase two new Challenger aircrafts for himself and his cabinet while the armed forces still had no replacement helicopters by the time he stepped down ten years later on 12 December 2003.
They were nowhere in sight by 2010:
Cyclone & Chinook helicopter procurement, an $11 billion debacle (2004-2010)
File Format: PDF/Adobe Acrobat
Gun Registry
Bill C-68 which required gun owners to be licensed received Senate approval in 1995. The Chrétien government emphasized that the $119 million Canadian Firearms Program set-up expense would be offset by revenue generated from registration fees and therefore only cost Canadian taxpayers $2 million. Auditor General Sheila Fraser reported on December 3rd 2002 that unexplained expenditures for the registry were spiraling out of control and predicted overall spending would reach $1 billion by 2005.
Business Development Bank of Canada
Yvon Duhaime was the owner of a money-losing establishment in Shawinigan called Auberge Grand-Mère that he had bought in 1993 from a company partly owned by his friend Jean Chrétien. The prime minister phoned then-BDC president François Beaudoin twice between 1996 and 1997 and pressured him to give Duhaime a $615 000 loan. Funding was reluctantly approved by Beaudoin in August 1997 and the hotel proprietor also secured a $164 000 grant obtained from Human Resources Canada.
Chrétien still had a financial interest in the golf course located close by in his riding of Saint-Maurice until he finally sold the shares in 1999 — and opposition critics alleged that federal funds injected into the inn stood to enhance the value of his investment.
When Duhaime, who was behind in his payments to the bank and had not paid overdue municipal taxes requested an additional $200 000 from BDC in April 1999, Beaudoin not only refused but even suggested calling in the loan. Michel Vennat, President of the BDC board of directors and a close associate of the prime minister since the 1970's, intervened but was unable to reverse Beaudoin's position. He enlisted the support of Jean Carle, the bank's corporate affairs Senior Vice-President and intermediary with the PMO (former director of cabinet operations for Chrétien).
François Beaudoin was forced out in September 1999, Vennat filed criminal complaints against him on behalf of the bank which spent $4.3 million in fees for lawyers, forensic accountants and investigators, Beaudoin's residences were raided by the RCMP — but the maligned executive defended himself vigorously with steadfast legal representation from Douglas Mitchell.
In a blistering ruling rendered on 6 February 2004, Mr. Justice André Denis of Québec Superior Court denounced the BDC, Vennat (bank president at the time) and Carle for trying to discredit Beaudoin with false allegations of fraud. He accused them of mounting a campaign to "break and ruin" Beaudoin's career which included illegal searches and unjustified claims that he misappropriated funds. Judge Denis ordered the BDC to reinstate Mr. Beaudoin's $200 000 annual pension and the $250 000 severance package he was given upon leaving, saying several BDC witnesses (including Carle) had lied on the stand and that Beaudoin suffered "an unspeakable injustice."
"Messieurs Vennat and Carle are personal friends of the prime minister and have every right to be. But the Auberge Grand-Mère case and media coverage surrounding it gave Mr. Beaudoin the impression that he was the victim of a vendetta," Judge Denis wrote. "The ferocity, even nastiness with which he was treated throughout this whole affair would certainly allow him to think that way." 6
Sponsorship Scandal
Auditor General Sheila Fraser tendered a preliminary report on 8 May 2002 that exposed misuse and waste by the Department of Public Works in its management of a sponsorship program which had begun in 1997. She notified the RCMP and pursued her investigation. Jean Chrétien publicly responded by saying: "A few million dollars may have been stolen along the way, but how many millions of dollars have we saved because we assured the stability of Canada by keeping it united?"7 In effect, the prime minister of Canada led by example and condoned unlawful behavior.
Paul Martin
Jean Chrétien's successor, Paul Martin, was sworn in as prime minister of Canada on December 12th 2003. The scathing 10 February 2004 report tabled by Auditor General Sheila Fraser then detailed massive misappropriation of public funds by the Chrétien government (while Paul Martin was minister of finance) which broke "every rule in the book" in its $250 million allocation of sponsorship contracts: "I am deeply disturbed that such practices were allowed to happen in the first place," she soberly stated.
An Order in Council was issued on 19 February 2004 which defined the terms for a Commission of Inquiry into the Sponsorship Program and Mr. Justice John H. Gomery was named Commissioner. During the public hearings into the scandal that Judge Gomery called an "aberration" which "originated in the prime minister's office" (Chrétien), the Commission learned that "non-observance of the rules was aggravated by reluctance on the part of politicians and senior bureaucrats to recognize their responsibilities and to be accountable for their actions."
A Fact Finding Report was released on November 1st 2005, one month after the Liberal government of Paul Martin had begun a desperate attempt to discredit the Commission by issuing false statements that it had cost Canadian taxpayers 68.6 million dollars when in fact the sum was only $33.4 million ($20.4 million the first year, one million less than budgeted and $14 million for the second).
Department of Public Works spokesperson Renée David asserted on behalf of Minister Scott Brison that "the government was informing Canadians about the true amount that they would have to pay for the inquiry" — although she admitted the additional $32.9 million in "indirect costs" included expenses retrieved from the Treasury Board, Privy Council, Department of Public Works, numerous federal agencies, legal costs incurred by the interveners and political parties, translation, access of information monitoring and a War Room to contain the political damage — all of which she recognized was part of the federal operating budget and not "direct expenses" spent by the Commission. (Federal Court of Canada Judge Max Teitelbaum did rule on 26 June 2008 that John Gomery made "inappropriate comments" in media interviews and during the hearings, but these imprudent lapses didn't taint the findings or absolve those who were implicated).8
The double standard
Investigating corrupt politicians requires the same painstaking forensic techniques as those used by law enforcement against organized crime — and the proof is most often discovered in concealed details.
Whereas the Liberal government of Paul Martin tried to deceive Canadian taxpayers and damage the reputation of Justice John Gomery by creating an inappropriate debate over "indirect costs" — the scrutiny by CPAC into unjustified use of Challenger jets for domestic travel by cabinet ministers uncovered how they keep two sets of books.
Treasury Board directives dictate that all travel within Canada should be done by commercial airline whenever possible — and when ministers use one of the four Challengers from the government fleet, they should avoid doing so alone. Nevertheless, use of this privileged form of transportation by big time operators Lucienne Robillard, Pierre Pettigrew, Stéphane Dion and Bill Graham cost $15.7 million during a five year period (January 2000-July 2005) whilst 725 hours of that flight time was unwarranted. Anne McLellan was documented enjoying return trips between Ottawa and her Alberta riding, each costing $16 000. Ralph Goodale did the same ($13 000) to Regina — and David Collenette sent for an empty Challenger from its base in Ottawa to pick him up in Vancouver ($22 828) instead of selecting one of the 16 daily commercial flights for which prices varied from $450 to $2 500.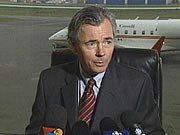 Pierre Pettigrew and ride
Confronted with yet another example of excessive indifference for public finances, the government unveiled an entirely different accounting method (compared to the one used in the Gomery instance), whereby it was officially reported that Challenger use "only" cost $2 129 per hour — a figure that didn't even include fuel consumption. When fixed expenses or "indirect costs" were factored in such as pilot and crew salaries, maintenance and aircraft amortization, the invoice climbed to $11 000 per hour.9
Deceit — non disclosure and China
Governor General Adrienne Clarkson unveiled a new Canadian embassy in Berlin on April 29th 2005, four years after its initial completion date and 150% over budget. What had begun as a $39 million project ended up costing $180 million. It was built in partnership with the Hannover Leasing Group, a private German company that contributed $78 million in exchange for a 35 year operating contract to administer the complex before property rights revert to the government (also consisting of stylish apartments, commercial and retail space).
When national security concerns were raised and Liberal Defence Minister Bill Graham (previously at foreign affairs) was asked why the government chose this particular method for such a sensitive facility located on Leipziger Platz he answered: "I'm not familiar with the terms of the lease or exactly how that's come about, but I can say that I certainly approved the idea that we should have an appropriate embassy."
His cabinet colleague Pierre Stewart Pettigrew who was minister of foreign affairs wouldn't even address the cost overruns when CTV News requested clarification: "We've got to be in Germany to look after our Canadian citizens, promote our interests and business as well." He then condescendingly closed the interview with a "merci beaucoup" while walking away from the camera.10
Canada donated almost $1 billion to China over a ten year period (1995-2005). Many asked why the government would bestow foreign aid tax dollars in such generous fashion to this Asian giant that boasted:
The world's second largest economy growing at an average annual rate of 9.5% when it dislodged Canada for the first time in July 2005 as the N° 1 exporter to the United States.11
A significant military industrial complex with nuclear ICBM capability.12
A space program and ground-based "satellite-killer" missile technology that was successfully tested on 11 January 2007.13
A vast espionage network in Canada of over 1 000 operatives that cost the country 1 000 jobs for every $100 million of stolen technology and intellectual property.
A dubious record with regards to human rights.
Minister of International Cooperation Aileen Carroll rendered herself unavailable to comment and former Canadian Security Intelligence Service (CSIS) Asia-Pacific desk director Michael Juneau-Katsuya later reported that the Liberal government knew about the spying but was unwilling to upset the Chinese because of the size of their market.14
Auditor General Sheila Fraser released another report on 16 May 2006 which found that the Liberal government of Paul Martin hid more than $60 million of gun registry spending ($946 million in accrued costs), "misinformed" Parliament and left no written record of important decisions taken by officials. "We consider this a serious matter for Parliament's attention, because the ability of the House of Commons to approve government spending is fundamental to Parliament's control of the public purse."
The long-gun registry had cost $2 billion by 2010 ($106 million a year) according to Canadian Taxpayers Federation estimates (RCMP figures claimed an $87 million yearly operating expense, $66.4 million for 2010-11). Gun owners had been required to possess an RCMP issued Firearms Acquisition Certificate (FAC) since 1991 and all purchases were already recorded, making this redundant database just another example of governmental boondoggles at its absolute finest.
"In the political arena, the very idea of strategic policy-making is drowning in the swirling search for momentary tactical advantage."15
Prime Minister Paul Martin and Defence Minister David Pratt announced the deployment of 550 troops for a 90-day mission to restore stability in Haiti (5 March 2004) after President Jean-Bertrand Aristide fled the country (Operation Halo). The Canadian force included three infantry platoons with six CH-146 Griffon helicopters from 430 Squadron in Valcartier Qc. supported by members of the Royal Canadian Regiment's 2nd Battalion India Company based at CFB Gagetown (NB) and a company group from the Royal Canadian Regiment when the mission was extended for another 90 days on 5 May 2004.
The last contingent of eighty-two soldiers from CFB Gagetown and Trenton Ontario who took part in that assignment where they were left "prodding and begging" for basic gear, landed at Fredericton (NB) on 16 August 2004. A handful of personnel remained behind with the heavy equipment that departed by ship for Saint John New Brunswick later that week (the 23 March 2004 Department of Finance budget provided $50 million to cover incremental costs for a three-month military commitment in Haiti).16
Portrait of a liar
14 October 2004
After a meeting in Paris with French President Jacques Chirac, Paul Martin insisted that Canada would not send troops to Iraq because there were limits to the military's resources which were deployed in Haiti (Afghanistan and Africa) where they could make a difference.17
There were in fact only two members of the Canadian military in Haiti serving with the Security Guard Unit that protected 40 embassies and consulates around the world when the prime minister knowingly misled the media.18
28 October 2004
When asked if Canada would send troops to Iraq in the event Senator John Kerry (Democratic challenger) won the U.S. presidential election, Prime Minister Paul Martin offered his standard reply: "What I want is for Canada to be involved where we can have a significant influence or impact." "We are involved in Haiti. And there is a limit to our resources."19
3 November 2004
Reacting to the victory of George W. Bush over John Kerry, Prime Minister Paul Martin reiterated that Canada would not send troops to Iraq even if requested by the American president because Canadian soldiers were already engaged in several missions abroad, notably in Haiti and Afghanistan.20
5 December 2004
When Prime Minister Paul Martin appeared on Wolf Blitzer's CNN Sunday program Late Edition and was pressed by the moderator about putting Canadian boots on the ground in Iraq, he responded defensively by saying: "Well, we are very, very heavily involved in Afghanistan. We're increasing our troops going into Afghanistan. We're in Haiti." "Our troops are stretched very, very thin."
Although the entire Canadian contingent had left the Caribbean island of Hispaniola in mid-August, Martin embellished the ruse by falsely alluding that additional troops would have to be sent when he added: "Haiti, there's a major disarmament that's going to have to go on. Troops are going to have to go back into there if that disarmament is going to take place."
11 December 2004
The message invariably mutates to suit a particular audience – and Paul Martin very well knew that Canadian armed forces were no longer deployed in Haiti when he repeatedly furnished those disingenuous explanations as demonstrated by his address six days later to the well informed Haitian Diaspora at an International Conference in Montréal:
"In the first days of the crisis that beset Haiti early last March, Canada responded by sending a sizable (military) stabilization force for six months."
"Since July, Canada has deployed more than 100 police officers in the multinational peacekeeping force."21
Diametrically contrary to the previous commentaries, Martin officials said the prime minister "had no immediate plans to send additional soldiers to replace the 500 who completed their six-month United Nations mission rotation." 22
When United Nations Secretary-General Kofi Annan advised U.S. Secretary of State Condoleezza Rice on 25 June 2005 that a request for Canadian troops was being considered to bolster the Haiti mission where peacekeepers were beleaguered by increased violence, Canadian Ambassador to the UN Allan Rock told Associated Press: "Canada is not in a position to provide additional forces in Haiti at this moment."23
The unreported lies had become policy thanks to a pool of government stenographers, more commonly known as mainstream media accomplices who haughtily boast exercising responsible journalism.
Corruption and foreign affairs
Canada had ratified the Organization of American States (OAS) Inter-American Convention against Corruption on 6 June 2000 and signed the United Nations Convention against Transnational Organized Crime (UNCTOC) on 14 December 2000 when Liberal Prime Minister Paul Martin delivered an anti-corruption policy statement to the international community on 12 January 2004:
"New threats to our security have emerged – terrorism, on the one hand, the growth of the drug trade, corruption and transnational crime on the other. All put the very foundations of democracy at risk."
24
The United Nations Convention against Corruption (UNAC) was signed by Allan Rock on 21 May 2004 — while Pierre Pettigrew re-affirmed Canada's commitment to tackle "money laundering and crime" problems including the need to address "political, economic and social challenges in order to foster credibility and public trust in democratic institutions" because corruption "was one of the key threats to democracy." Sound democratic governance required "ensuring the transparency, accessibility and probity of our institutions, the efficiency and fairness of the judicial system, the credibility of the political system and the effective separation of the various powers of the state."25
Aileen Carroll incorporated the corruption issue into foreign aid policy on 9 March 2005 by stating that good governance was a "prerequisite for aid effectiveness" whereby recipient countries needed to have "a strong civil service, good laws enforced by an independent judiciary, a respect for human rights and an aversion for corruption."26
Paul Martin pledged that Canada would play a key role to "create institutions" in Haiti because successful reconstruction based on "rule of law" required an "efficient and honest judiciary." Interim Haitian Prime Minister Gérard Latortue even admitted that "not a single court ruling had been published over the last 15 to 20 years" and "many judges are terribly frightened of reprisals."27
The authenticity of these commitments would soon be put to the test in Haiti where good governance was a laughable concept meant to be discarded — and corruption topics had always been diligently suppressed by Canadian officials who never even uttered the term.28
Corruption in foreign affairs
In compliance with Department of Foreign Affairs ministerial provisions for plans and priorities (RPP 2004 – 2005, Treasury Board Secretariat), the estate of Colonel Roland Guy Godbout (Régiment de la Chaudière, European Theatre of Operations, Second World War) submitted a comprehensive legal brief on February 1st 2005 to Minister Pierre Pettigrew that covered:
The government's commitment to defend the interests of "Canadians abroad who face legal and personal safety problems."
The "wide range of fast, efficient and professional services available from a recognized and trusted source" to "deal with differences that exist between our legal, social and business systems and those of foreign countries."
"Promoting good governance and the rule of law."
The evidence presented testified eloquently to the scope of organized crime within Haiti's oligarchy — a country that was ranked 154th and dead-last in TI's 2004 Corruption Index (Berlin-based NGO funded by the Canadian International Development Agency).29
Intimidation techniques had been observed by the plaintiffs who were strongly advised by a former Haitian prosecutor against sending anyone to Port-au-Prince because they risked being assassinated.30
The protagonists and co-conspirators were all players within so-called Haitian elite circles:
Patrick Torres and his spouse Marie-Denise Bayard (petroleum distribution) seized the late Col. Godbout's seaside villa in 2002 (built on a 25 117 M² property), placed armed guards and defiantly resisted eviction. He was later summoned on 13 August 2007 by Magistrate Jean-Claude Dabrézil to answer charges of handing out death threats (Penal Code article 250).
Attorneys Gilbert Léger, Régine Vilaire, Jean-Frédéric Salès and Martine Chevalier.
Notary Jean-Henry Céant ("le notaire du Palais" – "the Palace notary" and presidential candidate in 2010), close to former President Jean-Bertrand Aristide, he was named (with Ginette Céant, Secrétaire au niveau du Secrétariat Privé du Président de la République) as a key organized crime figure by l'Unité Centrale de Renseignements Financiers (UCREF) in 2005, a government sponsored investigation that recommended their indictments for embezzling public funds, corruption and money laundering.
Martin-Pierre Pelletier, Pierre Pettigrew's Director of Parliamentary Affairs and Deputy Chief of Staff, favorably greeted the deposition on 2 February 2005 by advising the estate's Canadian attorneys that it was on the minister's desk — adding he would personally contact Ambassador Claude Boucher.
Astonishingly, Pelletier reversed his position in a letter dated March 1st 2005 which informed counsel that Foreign Affairs Canada would not assist or intercede as requested (a follow-up email had been sent to him on 17 February 2005). He did however offer to provide "a list of attorneys working in Haiti who would certainly be able to bring the case before the courts" — but never even bothered to fulfill this absurd proposal when asked to do so on 8 March 2005.
This pronouncement was soon compared to multiple similar events — together with the Aerostar Hotel situation in Moscow where Canadian owners had been illegally and forcibly evicted from the premises on 13 August 2004:
Canadian embassy officials intervened without delay by sending an official note to the Russian Foreign Ministry expressing "deep concern" over the incident.
Paul Martin's senior Liberal government aides said they were "working hard" on behalf of the privately owned IMP Group in Halifax because "foreign investment security" was viewed as a "serious matter."
The prime minister himself raised the issue with Russian political leaders during his 11 October 2004 visit when he underlined that "rule of law is, in fact, the rule and not the exception."31
Furthermore, Haitian Deputy Justice Minister Philippe Vixamar (10 years with USAID, Latortue political appointee) corroborated that "the Canadian government played a key role" in their justice system and he had been assigned to the position by his employer CIDA (4th consecutive year with the agency) which paid the salaries of other "high-level government officials" such as Fernand Yvon, the Canadian advisor of Prime Minister Gérard Latortue. Vixamar remained on the payroll through the summer of 2005 and CIDA then delegated the posting to Dilia Lemaire.32
A Canada-Haiti study was therefore undertaken to identify the motives that precipitated Pierre Pettigrew's vituperative political interference which unquestionably contravened Canadian government policy and countless published federal standards.
Findings
The government of Canada contributed $297 million to the corrupt regimes of presidents Jean-Bertrand Aristide (1990-1991, 1994-1996, 2001-2004) and his close political ally René Gracia Préval (1996-2001) between 1994 and 2003.33
Results:
"Haiti's justice system is characterized by incompetence, corruption among judges, outdated laws, costly procedural delays, lack of basic infrastructure, and civil institutions are incapable of assuming their responsibilities."34
Attempts by CIDA to bolster democratic development by ensuring "security and respect for law and order" were viewed as a threat by government authorities, they yielded "flagrant lack of cooperation" to reform the public sector or improve all forms of governance — and "justice is not better served."35
"International effort to import and establish justice with the rule of law has failed."36
Haiti was the benchmark of corruption when Denis Coderre (La Francophonie Minister) attempted to distance himself from the Liberal Party's sponsorship scandal during his Bourassa riding nomination assembly on 29 February 2004 (the day Aristide left the country) by appealing to a significant constituency of Haitian émigrés: "Given the events in Haiti, it's essential that we preserve that democracy. In order to do so, it's important that we have a strong Liberal Party of Canada."37


In other words, an endorsement of anarchy and organized crime abroad for self-serving political considerations at home after having heralded in a news release issued by the Canadian Department of Foreign Affairs on 28 January 2004: "It is essential that the OIF (International Organization of La Francophonie) work with the OAS and CARICOM (Caribbean Community and Common Market) to encourage the Haitian government to guarantee not only the security of the Haitian population, but also democracy and good governance."
Although the government of Canada had provided Haiti with $16 million since February 2004 when Foreign Affairs Minister Bill Graham stated on 7 May 2004: "Additional aid would only be made on the condition that it not be pilfered" (as it had been in the past and by then $313 million since 1994), Canadian Ambassador Kenneth Murray Cook quietly provided $13 million on 9 May 2004 to new arrival Gérard Latortue who had been named interim prime minister on 9 March 2004.38

On the campaign trail, Prime Minister Paul Martin reiterated Canada's commitment to rebuild the Haitian judiciary in a country that would again be governed by ruling-class opposition representatives and cohorts of previously corrupt administrations.39

Bill Graham (with Aileen Carroll in tow) then announced a supplementary $183 million donation on 18 July 2004 that was followed with grants of US$12.7 million on 4 January 2005 and $17 million on 10 January 2005.40

The $875 million in subsidies and military mission in Haiti since 1968 had cost Canadian taxpayers more than 1 billion 225 million dollars by 2005.
Results:
An urgent need is required "to create a justice system" in Haiti which "it has never had."41
Bloc Québécois MP Serge Ménard (past Québec provincial Minister of Public Security) remarked on 17 June 2008: "I see that in Ottawa, they don't take organized crime seriously." The Government of Canada intentionally condoned it in Haiti because corruption was recognized as an indispensable State institution.42
Canadian foreign aid which finances the affluent minority at the expense of an impoverished majority was essentially provided to acquire Washington's friendship and Haitian ballots at home: "By championing the cause of Haitian reconstruction" (pseudonym for bribery), Martin officials said he "hoped to answer the call of Canada's 150 000 Haitian expatriates, about 120 000 of whom live in Montreal."43
Pierre Pettigrew lied about his 5 February 2004 meeting in Canada with Haitian national Paul Arcelin44 (Dominican Republic-based political advisor of paramilitary leader Guy Philippe who toppled Aristide – and former ambassador in that neighboring country during the dictatorship of General Prosper Avril who ruled from 1988 to 1990 by arbitrarily torturing his opponents) when his office maintained that it had been held according to the health minister's "open door" riding policy towards the Haitian community in Papineau. Arcelin was not a constituent or even a Canadian resident and brought to the table a long nurtured political agenda.45

The demonstrably corrupt Pettigrew tenaciously solicited Diaspora support with questionable financial incentives (euphemism for kickbacks)46 when he became minister of foreign affairs after winning re-election on 28 June 2004 by only 468 votes out of 16 892, openly supported Gérard Latortue who had been severely chastised by the international community (including the OAS) for having glorified convicted murderers47 — and unconscionably withheld multiple government-agency assets from Canadian citizens to avoid offending Haitian organized crime families in the hope of salvaging his foundering political career.
Prime Minister Paul Martin named Denis Coderre (former minister left out of the new Liberal minority government cabinet that was sworn-in at Rideau Hall in Ottawa on 20 July 2004) as Special Adviser for Haiti (reporting to Pettigrew) on 26 November 2004 — and the dishonest MP alerted a group of alarmed human rights activists on 11 March 2005 that "Canada would not get involved in Haiti's justice system."48

The eloquent but fallacious declarations on the world stage by Martin, Carroll and Pettigrew that corruption was one of the key threats to democracy had simply vanished from the radar screen because: "A press release is not a policy."49

Russia was ranked 90th out of 145 countries on the 2004 TI Corruption Index when authorities in Moscow were sermonized by a Paul Martin being displayed vigorously defending Canadian interests. Haiti under Latortue found itself classed second to last in a field of 158 contestants one year later when Coderre publicly endorsed the Pettigrew guidelines: Promoting rule of law had to be construed as an exception, not the rule — and foreign investment security was no longer a serious matter for government officials, unless sparingly invoked on occasion to reward worthy partisan patronage.50
Former Haiti coup leader Guy Philippe pleaded guilty in U.S. drug case on 24 April 2017, Jonathan Stempel, Reuters
File Format: PDF/Adobe Acrobat
Observations
Paul Martin's disreputable government was defeated in the 23 January 2006 general election by the Conservatives led by Stephen Harper — and the dethroned prime minister announced on February 1st 2006 that he would continue on as head of the Liberal Party until his successor was chosen but decided not to serve as Leader of the Opposition.
Selected by the Liberal caucus to be their formation's provisional House of Commons chief parliamentarian, Bill Graham who had declined to discuss vital Berlin embassy security concerns (by pleading ignorance) — and dispensed with the first Godbout estate complaint supplied on 24 March 2004 while he was minister of foreign affairs, validated the contention that his party remained the most corrupt institution in Canada when he criticized Prime Minister Harper's government attitude vis-à-vis the media during an interview granted on 28 July 2006: "In a democracy, it is essential that what happens (within government) be known by the population. I believe that it is an absolute necessity."
51
Former Liberal Minister of Public Works Scott Brison was compelled to meet RCMP officers on 18 January 2006 in the course of a criminal investigation into possible leaks of sensitive financial information because he had sent an e-mail to a Canadian Imperial Bank of Commerce (CIBC) acquaintance on 22 November 2005 (one day before Finance Minister Ralph Goodale pronounced his long-awaited income-trust tax decision) in which he wrote: "I think you will be happier very soon… this week probably."52
The scheming MP for Kings-Hants (Nova Scotia) and Liberal Party leadership candidate (beforehand responsible for orchestrating a smear campaign against the Gomery Commission), inadvertently reminded observers on 10 June 2006 that Canada had been abysmally governed with meaningless press releases during the Grits tenure when he defended his support to extend the Canadian military mission in Afghanistan:
"The headline in the New York Times the next day (if the Conservative motion had been defeated) would have been Canadian Parliament withdraws support for the Afghan mission."
Referring to leadership as involving courage of convictions, untainted Liberal political newcomer Martha Hall Findlay thoroughly humiliated Brison when she replied:
"We do not establish our foreign policy in this country, with all due respect, because we're afraid of what the headline in the New York Times will be."
53
Pierre Pettigrew lost his Papineau seat by 990 votes to Haitian-born and opportunistic Bloc Québécois MP Vivian Barbot who advocated dismantling Canada — the country that provided her with a genuine opportunity to build a better life.
The ungrateful Barbot was a board member of the
Conseil de la Souveraineté du Québec
that published on 29 March 2006 a vulgar "pedagogical guide" titled
Let's talk about Sovereignty
destined to
indoctrinate children
and disparage Canadian federalism in the education system
from kindergarten
to university. The loathsome 40 lesson-plan propaganda-rag promoted hostility towards Canada (featuring a youngster's drawing illustrating the Canadian flag being torn in half) and asked
elementary-school students
to contemplate what could be better done with the $9.5 million annual contribution provided by Quebecers to maintain the Office of Governor General. Suggested answers included: "Building a dozen schools in Haiti."
54
Former Haitian President René Préval who had overseen the affairs of a nation that was ranked 7th most corrupt worldwide by the time he completed his first mandate (fell to 3rd in 2003 and awarded first prize in 2004), was inducted for a second term on 14 May 2006 to watch over the failed State which again found itself listed last in the annual survey of global graft.55
Préval nominated Jacques-Édouard Alexis to be prime minister on 22 May 2006.
Named by the Liberal government of Canada as an accomplice with regards to crimes against humanity (Carrefour-Feuilles massacre of 11 civilians) while serving as Préval's prime minister from 26 March 1999 to 7 February 2001, Haiti's Senate ratified Alexis on Wednesday 24 May 2006, he was approved by the Deputies chamber on the 30th and sworn-in with his cabinet on 9 June 2006. Not surprisingly, the new government's first order of business was to withdraw all criminal charges that had been brought against Aristide in Miami federal court (Nov. 2005) by the previous interim administration's Justice Ministry.56
Whilst the destitute masses did re-elect Préval and as the saying goes, you get what you vote for, the third-world few will carry on exercising almost complete contempt for constitutional law — in luxury at home and abroad.
Federal authorities in Ottawa overlooked the export of Haitian gangsterism onto Canadian soil — and did it with intent at the expense of honest taxpayers who regularly witnessed comparable ineptitude during endless waits for inadequate medical care.
57
Using foreign aid to subsidize corrupt regimes that are experts at "gaming the system" will only provide the minority ruling-class with a "perverse incentive" to maintain ordinary citizens in a state of near-serfdom.58
The Conservative government of Prime Minister Stephen Harper endowed Haiti with another $520 million over five years on 25 July 2006.59
Canadian media persistently disregarded analytical data to deliberately disseminate an imaginary message that "Canada is making a difference in Haiti"60 such as when Governor General Michaëlle Jean61 attended the inauguration of René Préval which the Montreal Gazette called a "diplomatic exploit"62 while reporting the former journalist also vowed "to change the view Canadians have of Haiti, embarking on a grueling schedule of events made even more challenging by the heat, the humidity and Port-au-Prince's traffic clogged roads."63
Embellished praise amongst peers perhaps more deservingly bestowed upon the millions of Canadian snowbirds who intrepidly endure similar tropical climates on the links during their winter travel getaways!
Mrs. Jean's undertaking would inevitably backfire because Canadian strategy encouraged the victimization of an entire society64 "by a relatively small class of armed criminals, thugs and people who are prepared to use violence for political ends"65 — while "many North Americans don't even know that Haiti even exists (an overnight boat ride away from Miami or 90-minute flight)… and, one could argue, don't care." MINUSTAH (United Nations stabilization mission in Haiti) spokeswoman, Sophie Boutaud de la Combe, assessed on 10 March 2009: "The UNs stabilization efforts cannot be sustained if the economic and social situation does not change in Haiti."66
Epilogue
A study was published on 2 September 2006 by the British medical journal The Lancet which estimated that 8 000 Haitians had been murdered and 35 000 women raped or sexually assaulted during a 22-month period following the ouster of President Aristide.
Stipulating: "We have no conflicts of interest" — the survey said that 20% of all threats against civilians had been made by foreign soldiers (specifically Brazilian and Jordanian UN troops), and its conclusions implied that Aristide's removal from office contributed to the dramatic increase in violence.
67
The Montreal Gazette picked-up the story — and even though there was no mention whatsoever of any wrongdoing by Canadian peacekeepers in the report, a front-page article written by reporter Jeff Heinrich appeared in the 2 September 2006 Saturday edition that headlined with:
"Canadian troops and police with the United Nations in Haiti made death threats during house raids and made sexual threats against women while drunk and off-duty, according to Haitians interviewed as part of a meticulous human-rights survey by U.S. researchers in December 2005 published this week in the British medical journal The Lancet."
The newspaper had contacted Athena Kolbe, the principal author who was depicted as "an expert on Haiti" and quoted her stating: "Canadians were definitely blamed for death threats and threats of physical and sexual violence." Gloating that his exposé had made it on page one, Jeff Heinrich penned a follow-up piece on 7 September in which Department of National Defence spokesperson, Captain Mark Giles, verified that the Provost Marshal was conducting a review of the allegations — but suggested the incidents might not have been possible since Canadian personnel weren't even deployed anywhere near the Port-au-Prince neighborhoods where residents were questioned by Kolbe.
Within a week it was ascertained that Jeff Heinrich had fabricated an entirely fictitious account by relying on nothing but unsubstantiated hearsay and innuendo. Athena Kolbe was in fact a longtime admirer of Aristide, an advocacy columnist who wrote under the pseudonym Lyn Duff, held "warm feelings" toward the corrupt leader — and knew him personally having been in his employ for 3 ½ years.
The Gazette did publish an editorial on 11 September 2006 admitting that the study "deserved to be trashed" — but called it "misdirected enthusiasm" without a hint of apology to readers or the dedicated Canadian men and women in uniform who were calculatingly vilified by unethical and inexcusable gutter tabloid sensationalism.
The Lancet's executive editor, William Summerskill, and its editor, Richard Horton, conceded on February 1st 2007 that Athena Kolbe's "undeclared conflict of interest" was an error — but defended the veracity of her survey's "published data" after it had been independently audited by Wayne State University in Detroit.
A malevolent Jeff Heinrich used this opportunity, with the blessing of his daily, to write another defamatory article on 2 February 2007 in which he again repeated all the phony accusations — and insinuated that the investigation carried-out "briefly" by Canada's military "in the wake of the bad publicity" was closed without any consequence because "the claims had been made anonymously."
The Gazette had launched a promotional campaign on 18 August 2006 with the slogan 'Words matter' and Bernard Asselin (Vice-President Marketing) proudly bragged:
"We use them to inform our readers of what's happening on the world stage as well as in their own backyard."
68
Apparently not and PBS correspondent Bill Moyers elucidated why:
News is what people want to keep hidden. Everything else is just publicity.69
Beau parleur, petit faiseur70
Since Prime Minister Stephen Harper promised to restore integrity in government and enhance Canada's diminished international reputation if the Tories secured power, Foreign Affairs Minister Peter MacKay was advised on September 1st 2006 (as a courtesy) that Colonel Godbout's estate legal briefs had been buried in the department's bowels by his dishonorable predecessors Pierre Pettigrew and Bill Graham.
Setting aside unequivocal task definitions which outlined that ambassadors provide assistance to Canadian citizens — in tandem with the commercial sections who defend their interests — Ginette Martin (Haiti Division Director, Latin America and Caribbean Bureau) responded on behalf of her minister by letter received 5 October 2006 wherein she candidly confessed that the government did not acknowledge those obligations.
This rhetorical diatribe not only unmasked the reality that Canadians were left to fend for themselves because overseas financial security was conveniently ignored by lawmakers, the brazen Mme Martin also sang her own praises with a reminder that they were instead quite busy disbursing $520 million to corrupt Haitian apparatchiks — and recommended contacting underhanded attorney Jean-Frédéric Salès who had been explicitly identified as a participant in the swindle of Godbout land holdings!71
Ginette Martin had been responsible for the commercial and political sections of the Canadian embassy in Guatemala when indigenous communities were challenging the lack of consultations concerning mining operations on their territory — as required by law. In response to the blockade by local residents of a Glamis Gold truck en route to that Canadian company's Marlin project, an army unit was deployed on 11 January 2005 resulting in one death (farmer Raul Castro Bocel) and twenty wounded.
The Canadian government position after this episode was explained by Ginette Martin in a Radio-Canada broadcast on 13 February 2005: "It's not only the company that we're defending… we're not only talking about a Canadian company (Glamis Gold), we're talking about thousands of Canadians who invested in the Toronto stock exchange… We also have a duty to see that they don't loose their investments." Safeguarding Canadian value/assets was thus seemingly enforced if it didn't presumably interfere with the lucrative activities of Haitian mobsters.
72
The budget at Foreign Affairs Canada was undeniably staggering for a patently dysfunctional and useless apparatus. Departmental planned spending (2005-2006) totaled 10 billion 573 million dollars of which $8.787 billion covered personnel remuneration (encompassing the 5 000 member diplomatic work force that staffed 273 missions in 150 countries, dependent states and areas of special sovereignty – an $830 million yearly payout).73
"Aid agencies are rewarded for setting goals rather than reaching them, since goals are observable to the rich-country public while results are not." 74
Auditor General Sheila Fraser had also warned Parliament on 23 November 2004 that CIDA did not meet many professional standards and failed to comply with the Treasury Board internal audit policy. The high-profile Senate Foreign Affairs Committee recommended disbanding the agency on 15 February 2007 because it had failed to make an aid difference — despite being allocated $3 billion annually (81% of employees were based in Ottawa). The report concluded that "effective use of international assistance" was difficult to envision "without good governance.75
Conservative Senator Hugh Segal, committee chair and former chief of staff to the Right Honorable Brian Mulroney, was in the aftermath summarily dismissed by his party leadership on 20 February 2007 for having authenticated the unspoken truth. In the meantime, 74% of all the cocaine seized at Montréal airports originated from Haiti.76
Plus ça change, plus c'est la même chose77
In addition to bureaucratic gridlock, foolhardiness and inexcusable bungling (e.g., military helicopter procurement debacle), the Certified General Accountants Association of Canada released a study on 23 May 2007 reporting that ubiquitous institutional corruption had a "decidedly negative impact on productivity and competitiveness." Investigating and indicting government officials contributed to growth loss which "could have been avoided through greater transparency and accountability.78
The Conservatives had expressed nothing less than outrage on 4 October 2005 when Liberal cabinet ministers were accused of using Defence Department Challenger jets for unnecessary flights (called "flying limousines" by Calgary Southeast MP Jason Kenney). They said the cost to operate them was $11 000 per hour but the Grits argued the rate was "only" $2 219.
That was an outright falsehood because military records obtained under the Access to Information Act confirmed the hourly expenditure for those aircrafts to be $10 669 in 2004. Although it decreased slightly to $9 147 in 2006 when Stephen Harper became prime minister, his government thereafter claimed the cost was $1 500!79
Government VIP Challenger jets cost taxpayers $12 531 for every hour of flight time in 2010-11 (accounting methods set-out by the auditor general in 1993/DND figures provided under federal Access to Information Program request):
Greg Weston, CBC News, 09-23-2011
André-Philippe Côté, Le Soleil (Québec), 11-07-2010
Terry Mosher (Aislin), Montreal Gazette, 11-29-2010
Why Foreign Aid to Haiti Failed, Terry F. Buss, PhD and Adam Gardner, National Academy of Public Administration, Washington, DC, 2006 File Format: PDF/Adobe Acrobat
René Bruemmer, Montreal Gazette, 27 November 2010: The prey, citizens of Haiti